"Booooiinnngggg!!!" "Uh-Oh!!!" "Booooiinnngggg!!!"
Have we all gone mad in our house? No, of course not, but the arrival of the great game "Pumpazing" from
Drumond Park
made us temporarily full of giggles and boings!
Meet Zingy, the crazy blue character who, when his arms are pumped, launches his little Zinger friends into outer space (well, OK, just across the room) whilst catching you out with the "Uh-Oh" every now and again.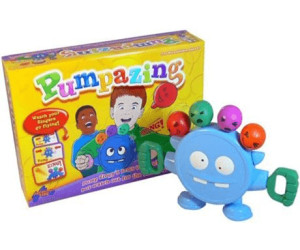 We played this game one wet evening last week... we had a few of these(!), so plenty of opportunity for indoor fun. Zingy is passed to each player who pumps his arms until a "boing" or "uh-oh" sounds. Using the Zingy cards as "lives" or "chances", each "uh-oh" means you lose a card and plays continues until there's just one player with a card left - the winner!
The game is suitable for 2 or more players aged 4 and over. My daughter is 8 and joined in for the first round but it didn't really appeal to her age group... however, my youngest aged 5 has played with it over and over again! After school and after a quick snack, he usually disappears into the living room and has a "rest" and watches TV...but now I know exactly where he will be.... just follow the noise of "boing!" and "uh-oh!" and the giggles and sure enough, there he is!
I don't know what produces the most fun...the anticipation of the next Zinger launch or the running around looking for the little critters afterwards! I can honestly say that I have never seen a game like this one before - totally unique. Just make sure you remove those ornaments that have been in the family for a lifetime and also watch out for babies who might not appreciate an unexpected Zinger paying them a visit! Lucy the dog didn't seem bothered by the Zinger's but then, she's not a "ball-chasing" dog anyway!
This would be perfect as an easy party game so Zingy will be making and appearance at our Hallowe'en Party over the half term break!
There was a bit of a sulk when, randomly, one of my children got the "uh-oh" 3 times on the run, but in a larger group this wouldn't happen, by law of probablility anyway! And we had a couple of "boings" with no action but this just increased the giggles of surprise when the Zinger did pop!
Pumpazing retails for around £19.99 - for stockists visit Drumond Park's website
here
or call 01506 855577.
Courtesey of Drumond Park, I have one Pumpazing Game to give away to one of you lucky guys or gals... simply complete the Rafflecopter below to enter.
a Rafflecopter giveaway