When is a cake not a cake? When it's a muffin or course, or a cupcake, or a fairy cake, or a bun, or a ...?!
To me, a fairy cake is a small cupcake - plain sponge with just glace icing and maybe a few sprinkles on top. A cupcake is a standard sized small cake (the ones you bake in 12's in a deep holed-baking tray) - usually plain sponge but sometimes flavoured, with an assortment of toppings to give them some va-va-voom! And a muffin is a larger cake again with chunks of things inside... blueberries, raspberries, white chocolate, nuts, etc...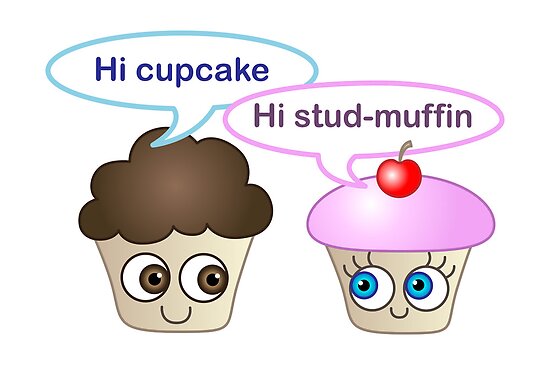 Here is the recipe that I use for my
fairy cakes and cupcakes
:
140g self raising flour
1/2 tsp of baking powder
115g caster sugar - Fairtrade if possible, I use either Co-Op or Tate & Lyle
2 medium free range eggs
1 tsp vanilla extract
115g butter or margarine - at the moment I'm in love with Stork Liquid but I also use "normal" Stork, I save using the butter for the butter cream(!)
Preheat the oven to Gas 4. Line a 12 hole baking tin with cake cases.
Sieve the flour and baking powder into a large bowl.
Add all the other ingredients and mix like mad for 3-5 minutes! If I'm using Stork Liquid then I just use a wooden spoon but if I'm using solid margarine I use an electric mixer.
Divide between the cake cases - for cupcakes I use an old scoop from a Cadbury's Hot Chocolate tub as a measure so they are all the same size... for fairy cakes I use a tablespoon measure. This recipe will make 12 cupcakes or 18 fairy cakes, depending on the size of your scoop!
Bake in the oven on the middle shelf for about 15 minutes... I never really time my cakes to the second, I keep peeping through the glass oven door but if you have a solid oven door make sure you keep an eye on the time as if you open the oven door too soon your cakes will sink!
Cool on wire rack then decorate when completey cool.
And here's the recipe I use for
muffins
...
250g self raising flour
1/2 tsp salt
100g caster sugar - again, Fairtrade if possible
1 medium free range egg, lightly beaten
120ml semi-skimmed milk
125g plain yoghurt
1 tsp flavouring - vanilla, almond, whatever you think fits in with the "chunks" you have chosen for your muffins!
75g butter or margarine, melted and cooled (or 75g Stork Liquid)
A handful of something for the "chunks"... raspberries, chocolate chips, blueberries, fudge pieces, anything really!
Preheat the oven to Gas 6 (200°C, 400°F). Line a 12 hole muffin tray with cases.
In one bowl, sift together the flour, salt and sugar.
In a second bowl or jug, mix together the egg, milk, yoghurt, flavouring and melted butter/margarine.
Pour the wet ingredients into the flour mixture and stir gently until combined - add any "chunks" and stir through gently. The mixture will be quite lumpy but there should be no dry flour visible.
Spoon the mixture into the muffin cases and bake for approximately 20 minutes or until the tops spring back when touched lightly. Cool on a wire rack.
Best served warm but they will keep in a airtight container (once cooled) for a couple of days.
From the recipes, you can see that the main difference is the ratio of fats to flour... the replacement of some of the fat and 1 egg with yoghurt and milk in the muffins makes them lower in fat than the cup cake recipe. Also, the lack of topping on a muffin reduces the additional fat and sugar levels - however, depending on the "chunks" that you add, the fat/sugar content can change considerably! Although, muffins can be a great way to get a bit of hidden goodness into your diet... muffins bursting with blueberries, cranberries or raspberries can really give you a boost at the "2pm slump" I seem to suffer from every day!
You can also add vegetables to the mix... grated carrot, parsnip and beetroot can all be added to spice up your muffins. Also add a teaspoon of mixed spice, ginger or nutmeg to experiment with flavours...
So have a go... enjoy experimenting and let me know any fabulous new flavours you have come up with - I'll definitely give you a "shout-out" and credit for your experimental cooking!