When an offer of 3 of my favourite things was waved in front of me - I couldn't resist.... planning, holidays and saving money (a little secret - certain members of my family call me Katie Coupon!), I just had to enter this great competition from
MoneySupermarket
!
So, where would I go, what would I do and how would I make my £1000 last as long as possible? And what epic activity would we do?
Well, here we go - we (hubby, 2 children and I) would hire a campervan and drive across America following most of Route 66! Starting in Los Angeles, California, we would travel by road visiting 8 states before arriving in Chicago, Illinois. A total of 2448 miles! Although we would be driving it from the end to the beginning(!), we would still capture the essence of America in one epic journey! This icon of American culture and widely varied landscapes, for us, is a once in a lifetime experience. I'm pretty good at making my pounds & dollars stretch as far as possible, so here's how we would do it!
The fuel for the trip would cost about £338 ($541) and the one-way hire fee is about another £126 ($200) so the total cost of the vehicle and fuel is £772.
As the vehicle hire is a large chunk of the budget, we would take advantage of the many, many things that are situated on Route 66 that you can see and visit free of charge!
We would plan to drive about 175 miles per day - some days a little more, some days a little less. The basic plan goes a little like this....
Los Angeles (California) to Las Vegas (Nevada) to the Grand Canyon (Arizona) to Holbrook (Arizona) to Albuquerque (New Mexico) - slight detour to Santa Fe! - to Amarillo (Texas) to Oklahoma City (Oklahoma) to Tulsa (Oklahoma) to Springfield (Missouri) to St. Louis (Missouri) and finishing in Chicago (Illinois).
I can feel a song or two coming on after that list!
A few must-sees on the way... free, of course!
Amboy Crater - California
The Grand Canyon, Arizona
The Rainbow Forest Museum - Arizona
St. Francis Cathedral - New Mexico
The Big Texan - Texas
U-Drop Inn - Texas (the inspiration for Ramone's House of Body Art - Disney/Pixar Cars)
Ramone's House of Body Art - Disney/Pixar Cars
Cadillac Ranch - Texas




The Leaning Water Tower - Texas
Devil's Rope Museum - Texas
The World's Largest Rocking Chair - Missouri
Hayes Shoe Store - Missouri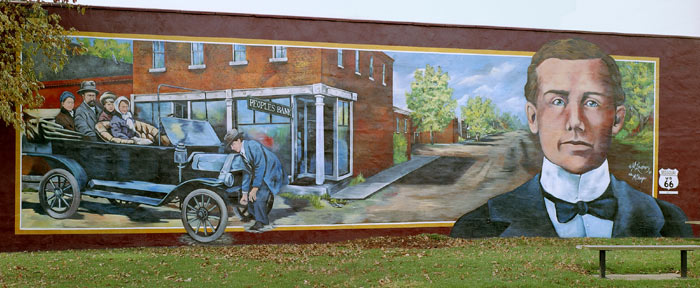 Viva Cuba Mural Project - Missouri
Jefferson National Expansion Memorial - Missouri
Chain of Rocks Bridge - Illinios/Missouri
Willis Tower - Chicago
And then for the excursions to be paid for...
Wigwam Motel - California
An overnight stay for a family of 4 in the
Wigwam Motel
in California costs just £52 ($82); a unique experience as part of a once in a lifetime trip!
Lowell Observatory - Arizona
Lowell Observatory in Arizona is a great value day out at just £22 ($34) for a family of four, where you can really reach for the stars!
We would visit the
Round Barn
at Arcardia, Oklahoma, where we would "Buy a Brick" for £32 ($50) to commemorate our trip and thanks to MoneySupermarket!
An overnight stay for an RV and a cavern tour at
Meramec Caverns
- The Jesse James Hideout - for 2 adults and 2 children would cost £53 ($84).
Meramec Caverns - Missouri
The rest of our overnight stays would be in roadside areas where it's free (and safe!) to camp overnight - you can basically pull up and camp overnight wherever it doesn't say "NO CAMPING"!
We would definitely visit the town of Normal as I've always wondered what Normal is like...!
The remainder of our money would pay for any treats and trinkets along the way... and so that's our "Grand Adventure"!
So how about you? What would be your ideal "Grand Adventure"? Let's see if any other blogger's will share their "Grand Adventure"...
Missing Sleep
,
Really Rachel
&
4 Munchkins Plus Mummy.