Another parcel popped through my door the other day... another great product from Discovery Foods! We have reviewed one of their fajita kits before - the
Mexican BBQ
flavour - but this time we received the orginal Mexican flavour. Now, this one has a bit more of a "kick" and is more suited to my taste buds! It is still family-friendly though as my children happily ate the fajitas, although some may find it too spicy for their children... mine are used to eating spicy foods and we always encourage them to at least try whatever we eat and it has not done them any harm yet!
Again, the kit contains the spice mix, tortilla wraps and a tomato salsa. It's very quick and easy to make - a simple one-pan meal which means for me, less washing up and more time for playing with the kids, walking the dog, blogging, etc,etc!!!
We served the fajitas with a simple side salad but would also be complemented by some spicy potato wedges or curly fries (my youngest's favourite at the moment - but I don't mind too much as he doesn't like chips at all!)
You can also buy the spice mixes separately - I think chicken and kidney beans stir-fried with the spice mix and served with boiled rice would make a lovely Mexican alternative to chilli con carne. You could even just use mixed beans and vegetables for a great vegetarian alternative. The flavours of the spice mix are strong enough to hold their own in a recipe and so would be compatible with almost anything!
Keep your eye on the
Discovery Foods
Facebook page for updates and news; and don't forget Freebie Friday!
Have a look in your local supermarket for the full range of recipe kits - the new sized boxes fit great on the shelf and in your cupboard, using less cardboard and so reducing their (and your!) carbon footprint!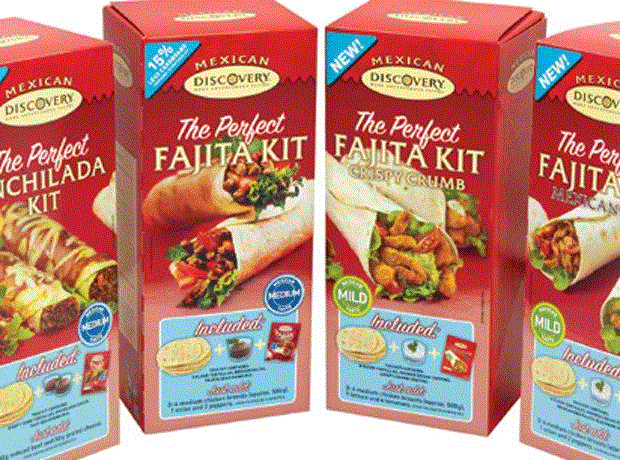 And, never fear, if you can't find what you want in your local supermarket, you can now order Discovery products online
here
via Discovery Foods Direct. Now there's no excuse for an empty store cupboard as delivery is usually made within 48 hours of the order being placed! With the warm weather back with us, get planning your Mexican party evenings and share the Mexican love!